---
AVAILABLE THROUGH OUR ONLINE PARTNERS: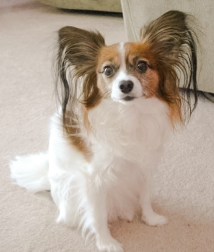 "She is using the Vitalize Alimend K9 and it stopped her acid reflux in its tracks! So glad my holistic vet recommended this!"
-Stefany Atkins
A liquid product for dogs designed to support gastric health and GI tissue and which may relieve occasional gastric issues.
KEY BENEFITS
Contains AO-Biotics® Amaferm®, a prebiotic research-proven to enhance digestibility.
Contains MHB3®, a patented high molecular weight hyaluronic acid that coats the stomach and supports GI tissue integrity.
Beta-glucans support the gut and immune system.
FEEDING DIRECTIONS
Directions for Use: • Administer ½ tsp (2.5 mL) twice daily. • Can be given during or after mealtime.


DO NOT FEED TO
---
CAUTIONS
See product tag for ingredient listing